See my cv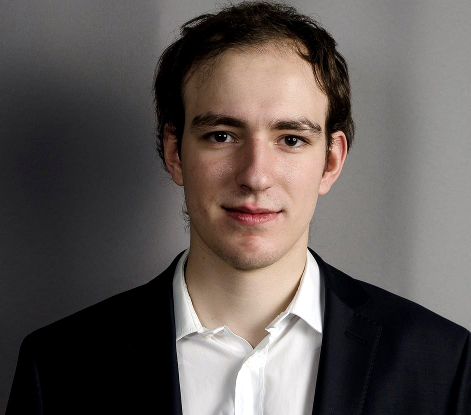 Education
2013 - 2015 : Master's degree in computer science at ENS Rennes
2012-2013 : Bachelor's degree in computer science at ENS Rennes
2010 - 2012 : Post-secondary preparatory classes,

University-level courses required in preparation for competitive entrance exams into top engineering and graduate schools (France's "Grandes écoles")
Main subjects studied : maths, physics, computer science

2010 : scientifical baccalauréat (exam at the end of high school) with highest honours
Research experience
May - July 2013 : Rhythm transcription in OpenMusic at Ircam
September 2013 - April 2014 : M1 research project: scheduling for the cloud, especially Hadoop
at INRIA Rennes
May - August 2014 : Compression based dependencies among rhytmic motifs in a score
at University College London MuSET
February - June 2015 : Scheduling in interactive multimedia systems
at Ircam, especially for Antescofo
September - December 2015 : Audio processing extension for Antescofo
at Ircam
Publications
My main interests
Computer science
Languages : OCaml, C, C++, Java, Python, HTML/CSS, Bash, Common Lisp
Various projects : github
Skilled user of GNU/Linux (Gentoo, Debian distributions), Mac OS X, and Windows
Frequent use of Latex
I am particularly interested in formal semantics, real-time scheduling, static analysis, and symbolic representation of music.
Music
French horn player since 9 in a conservatory. Orchestra, brass bands.

The instrument I play

Music theory
History of music Studied music of XXth century, Middle Age, and Renaissance
Dissertation about links between interpretation and notation in the Gregorian chant.
Harmony and counterpoint in the regional conservatory of music of Rennes
To listen to some of my music :
Language
I am very interested in languages, natural or artificial.
Spoken languages :
French : mother tongue
English : fluent ; European level C1 (TOEIC : 950 / 990)
Spanish : moderate
Russian : very moderate
Languages I can only write or read :
Latin : 1st prize high school category for the European competition Cicero (2008)
Ancient Greek : Distinction at French national Ancient Greek competition concours général de grec 2009
Sport
Computer science
Internship at Ircam on rhythm quantization
Internship at Ircam on multimedia scheduling
Mathematics
A document about cryptography with elliptical curves I wrote in 2nd year (in French)
An exam I designed for high school students about differential calculus, trinomial equations, and sequences. The goal is to explore - in a very guided way - a functional equation.
Other
firstname.familyname AT ens-rennes.fr (don't forget the hyphen)
firstname.familyname AT gmail.com (substitute the hyphen by a dot in the family name)